They say that "breakfast is really the most crucial meal of the day" because that's when your day starts. The breakfast decides if your day goes as an energetic flash or a dull eclipse.
It doesn't matter if breakfast is the most important meal or not, but you surely need to start your day with some energy filled up in your belly so your body functions as it must.
And if time's the reason why you cannot prepare healthy keto breakfasts in the morning, I've come up with a list of 14 keto breakfasts that get ready in 5 minutes or less!
Pin it for later: 
14+ Keto Breakfasts ready in 5 Minutes or less
These are amazing for last-minute meals when you truly are in a hurry. Plus, they are low in carbs too which clearly means you're gonna stay in ketosis.
Suggested Articles:
1. Flax Muffins
Mix all the ingredients well then put in the microwave for one minute. [1g net carb]
2. Bulletproof Coffee
Blend on high for 30 seconds! [0g net carbs] 
3. Keto Cream of Wheat
Warm-up Ricotta Cheese
+ butter
[0g net carbs]
4. Keto Cereal
1/4 cup sliced almonds
1/4 cup shredded coconut
1/8 cup chia seeds
1/4 cup crushed pecans
1/8 cup flax seeds 
Cinnamon
1 tbsp MCT oil
a cup of unsweetened almond milk
1 tbsp heavy whipping cream
[8g net carbs]
5. Cream Cheese Pancakes
2 eggs
2 oz Cream Cheese
1/2 tsp Cinnamon
Blend it really well then rest for 2 minutes. Use a hot greased pan to cook for 2 minutes, then flip & cook 1 minute in pan. Serve with Sugar-free syrup.
[5g net carbs] 
6. Cacao Protein Shake
Blend well. [4g net carbs] 
7. Scrambled Eggs on-the-go
Microwave for 2-3 minutes! [3 net carbs]
8. Keto Yogurt
100g Plain Greek Yogurt
1 tbsp Peanut Butter
[6g net carbs]
9. Fried Eggs with Rocket Salad
This recipe is the easiest of these 5-minute keto breakfast ideas! Get it on your table in literally less than 5 minutes.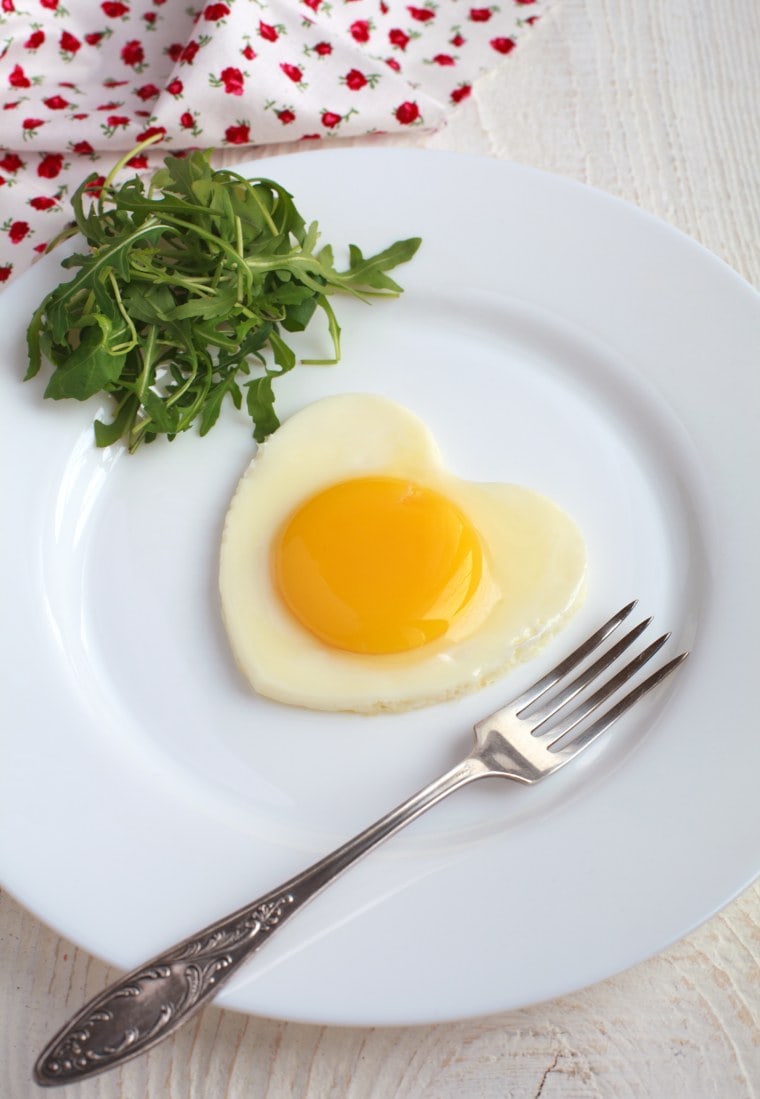 You can sprinkle a little bit of curry powder over the top if you're in love with Indian cuisine. Other than that, any kind of spice that you use for chicken would work delightful.
About rocket salad, it's delicious with eggs. You'd love some peas with the eggs. Though, just have this in mind – 100g of peas is 9g of carbs. 
Per serving:
Protein: 11.6g
Net carbs: 1g
Fats: 13.2g
Calories: 175
10. Green Smoothie
You might be thinking – "Smoothies are high in carbs, why hell is he positioning one in this list of keto breakfasts".
Well, the truth is, every recipe is high in carb. It depends on how you modify/adjust these recipes to pressure down the carbs. That's how this green smoothie is made!
All you gotta do is drop the right ingredients in the blender and you'll have a great drink in your hand in a couple of minutes.
Per serving:
Calories: 468
Fats: 48.2g
Net carbs: 6g
Protein: 4.2g
Get the recipe here!
11. Raspberry & Redcurrant Smoothie
Another smoothie recipe 🙂 It's just.. I'm secretly in love with smoothies.. hihihi.
So this one right here may not be the perfect choice for you if you're on a very strict keto diet. But if you cut yourself a slack one day or other, trust me this smoothie tastes like heaven.
If there's a morning where you wake up and crave some carbs really bad, go with this one. It's high in Vitamin C plus it also helps if you're sick. 
Other than that, the recipe is high in fibers – around 13g to 15g of fibers in a glass which basically means your digestive system for the day is SET.
Per serving:
Calories: 183
Fats: 2g
Net carbs: 12.9g
Protein: 4.3g
Get the recipe here!
12. Keto Oatmeal
A morning breakfast that is low in carb, not eggs (like always), and gets ready in under 5 minutes? HELL YEAH!
Per serving:
Calories: 300
Fats: 27g
Net carbs: 5g
Protein: 6g
Get the recipe here!
#Wrapping up
So these were 12 best keto breakfasts I could come up with, that get ready in only 5 minutes or even less! I love researching & finding what's best for all you guys.
There are some products (affiliate links) used in the recipes above. These products are really good and I suggest the stuff I have tried and believe in.
Anyway, I hope you liked these keto breakfasts that'd save a lot of your time. Tell me what do you think of these recipes in the comment section. Also, please share these with your friends & family by using the Pinterest graphics below: 
Ciao