It really doesn't matter if you spend 24 hours in the kitchen or if you spend just 30 minutes. It doesn't matter if you love cooking all the time or if your chef wakes up once in a while. We must all agree that:
A Crockpot is, hands down, the best equipment in any kitchen! 
They are low maintenance, do not ask you to stay in the kitchen for a long time, can cook any type of food in your mind. Literally any!
One of the reasons why I love slow cookers slash crockpots so much is – anything cooked in it becomes the better version of itself. Meat becomes way more tender & vegetables become softer.
The point here is – you need a crockpot. Where to find one?
I've found the perfect one for you and it's right here! Rated 4.6/5 stars by 5500+ happy users, it's the best crockpot one can find. It serves 7+ people, has a digital timer, and shifts automatically to "warm settings" once the cooking time completes.
Pin it for later: 
Three reasons you MUST buy this crockpot:
Easy to Prepare: You wouldn't find yourself in a hard-working situation while preparing for these 25 meals because slow cooking meals don't require much work.
Family Friendly: I used the term "family-friendly"  because you can cook a lot at once in the crockpot and feed a family of eight and yet have leftovers! If you don't have picky eaters on your dining, everyone is gonna love any of these 25 keto crockpot recipes.
Budget-Friendly: A ton of money is going to be saved by eating at home. Other than that, these recipes give you an opportunity to use food that's in the back of your fridge, which probably will be wasted if not used.
Keto Slow Cooker Recipes: 12 Tasty Meals to cook now!
The idea behind these crockpot recipes is to set it and forget it. Prepare whatever that is needed to go into the pot and then leave it alone. This is how slow cooking works.
Suggested Posts:
1. Cheesy Adobo Chicken
---
This recipe is just perfect because you can literally eat it in any season. Above that, even after adjusting the spiciness based on your taste, it'll make your mouth water. It tastes heaven-like both ways.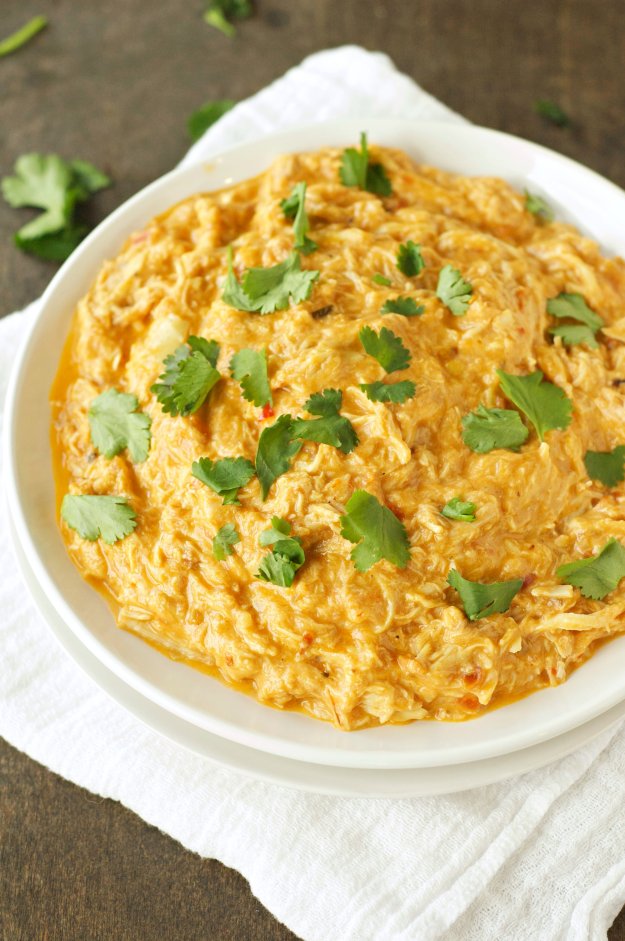 This dish may require some work in pulling the meat off bones but it's worth it if you're a cheese fan like me.
Protein: 26g
Fats: 20g
Net carbs: 6g
Calories: 321
Get the recipe here: Slow Cooker Gourmet
2. Paleo Pork Roast with Chimichurri Sauce
---
If you are a fan of pork and also have Chimichurri sauce once in a while, you'll fall for this meal. Plus, the sauce is sugar-free which also makes it keto-friendly.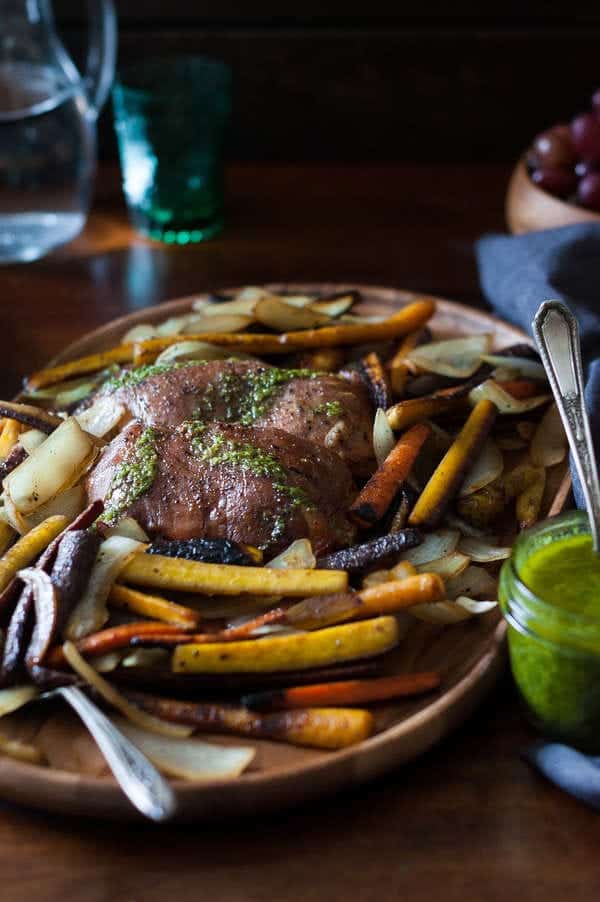 Overall the recipe is really simple. You'll only need to make the chimichurri sauce and trust me, it'll be worth it.
Per serving:
Calories: 171
Fats: 6.4g
Net carbs: 4.4g
Protein: 22.2g
Get the recipe here!
3. Keto Chilli
---
The best thing about this simple and quick to make keto chili is that it doesn't require beans! You can prepare it in 15 mins using common ingredients.
Per serving:
Protein: 42g
Fats: 16.2g
Net carbs: 10.1g
Calories: 355
Get the recipe here: The Health Creative
4. Low Carb Chili Dog Bake
---
Cook this for sure if your kids are big fans of hot dogs. One of the perfect keto slow cooker recipes to enjoy in summer no matter if you're in ketosis or not.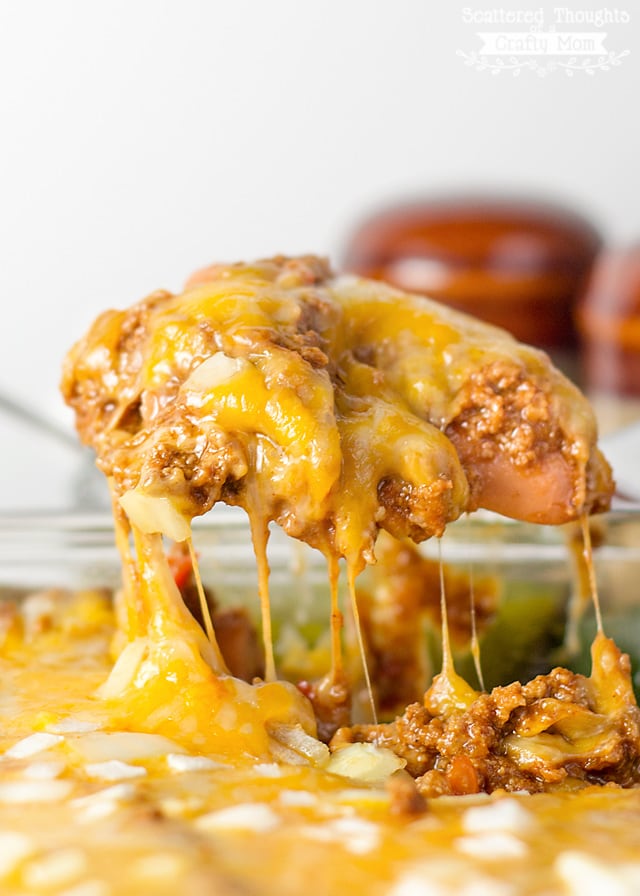 Per serving:
Calories: 523
Fats: 40g
Net carbs: 8g
Protein: 33g
Get the recipe here!
5. Chicken Cacciatore
---
This incredibly delicious Italian chicken dinner is the perfect addition to your meal prep day and contains as low as 8 net carbs! Get the recipe here: Wholesome Yum
Per serving:
Protein: 29g
Fats: 3g
Net carbs: 8g
Calories: 203
6. Chicken Fajitas
---
Chicken Fajitas are really good for lunch. Though chicken fajitas are mostly served along with rice and tacos, you need to cut off those. Instead, use lettuce or cauliflower rice to keep the carb count low.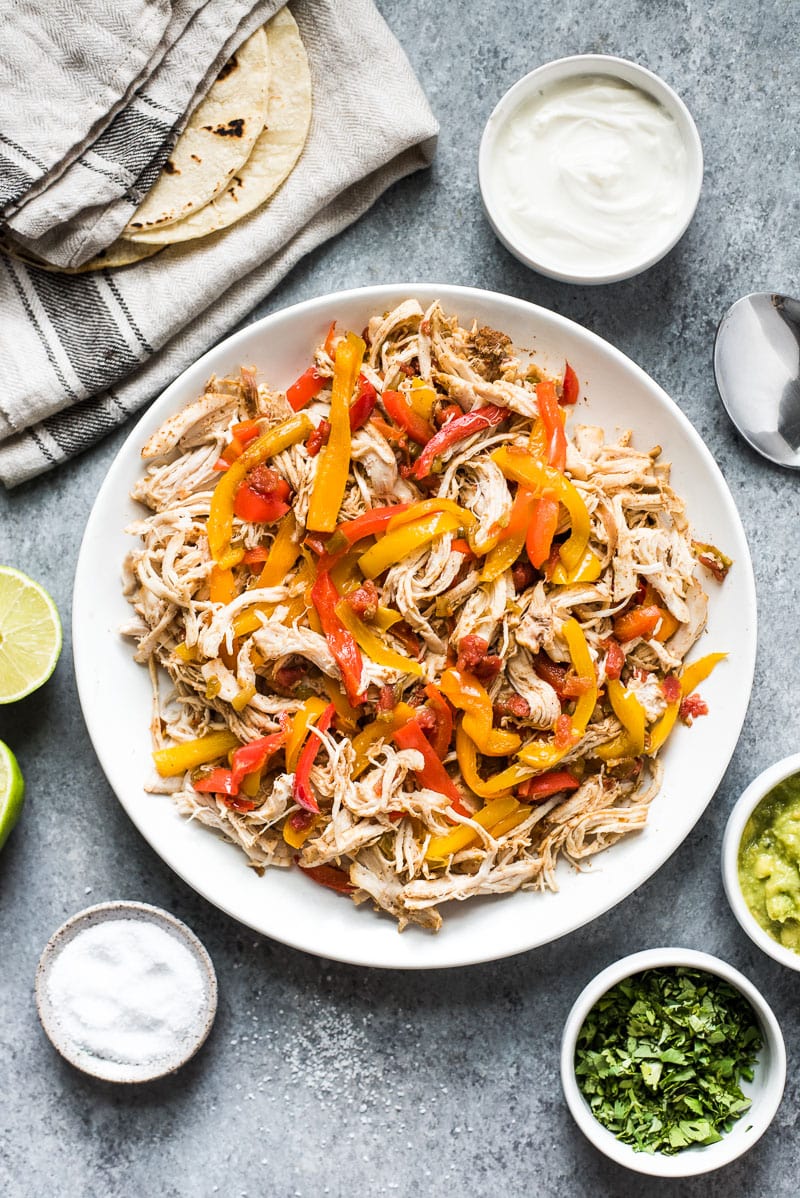 Per serving:
Calories: 140
Fats: 3g
Net carbs: 5g
Protein: 23g
Get the recipe here!
7. Keto Taco Soup
---
Everyone in your family is gonna go "WOOOOOW" after having this taco soup topped with sliced avocados and spicy ranch crackers!
I'm not gonna brag but this soup will surely warm up many hearts at the dining table. Get the recipe here: The Health Creative
Protein: 25g
Fats: 11g
Net carbs: 6g
Calories: 296
8. Pulled Pork
---
This pulled pork recipe is fairly easy to cook up and you can enjoy it really any time you want. Plus, it's great for meal prep and goes really well with a bit of salad.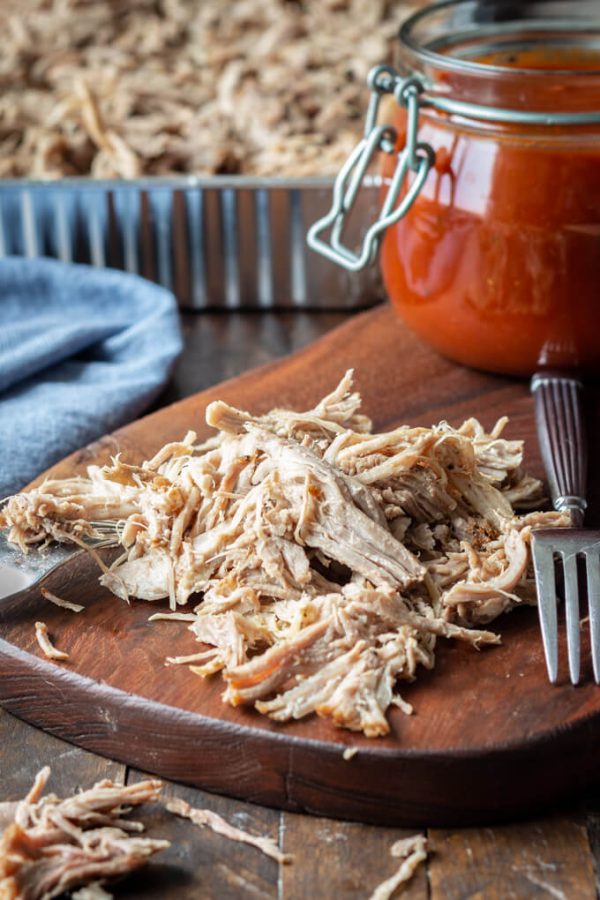 The main reason I like this recipe is – you can adjust it to your liking. Add some of your favorite sauce and you're good to eat this for a couple of days.
Per serving:
Calories: 264
Fats: 21g
Net carbs: 1g
Protein: 18g
Get the recipe here: Low Carb Maven
9. Mexican Chicken Soup
---
Make sure you cook more than a batch of this Mexican-inspired cream cheese-based soup that is keto-friendly! This soup really freezes beautifully and you'll want to have it again and again and again.
Protein: 27g
Fats: 36g
Net carbs: 11g
Calories: 483
Get the recipe here: The Flavours of Kitchen
10. Thai Chicken
---
I just can't get enough of chicken, right? It's so delicious & healthy, I just couldn't help myself.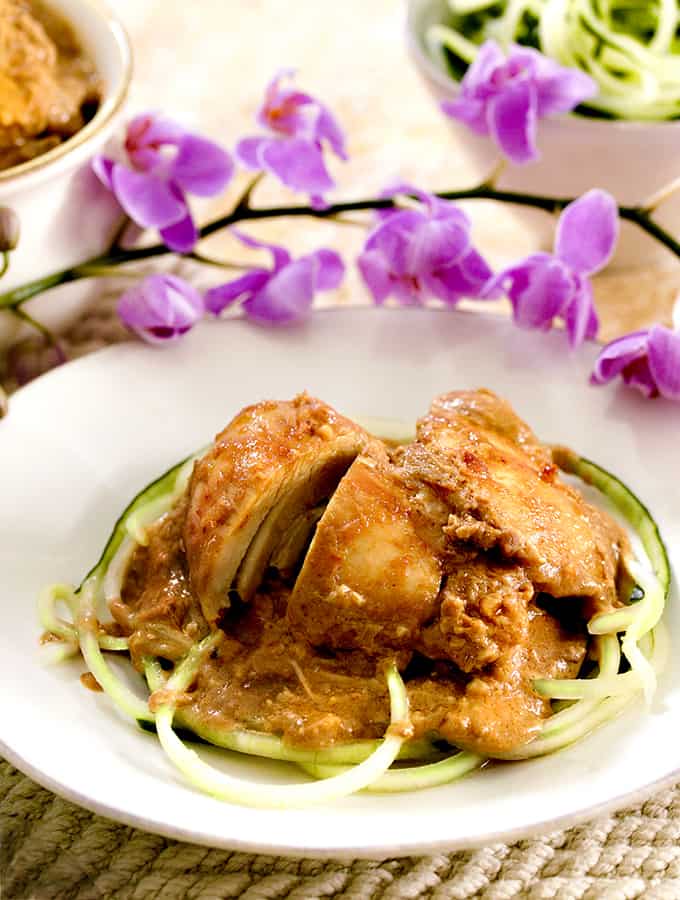 This recipe right here is comparatively a little higher in carbs but definitely worth it. The reason behind the high carbs is – this meal is sweeter than most of the recipes I've mentioned above.
The perfect meal on the holidays as it contains sweet sauce as well as peanut butter. But don't just limit this Thai Chicken for holidays, bring it out on the weekends too! 
Per serving:
Calories: 232
Fats: 16g
Net carbs: 15g
Protein: 9g
Get the recipe here: Two Sleevers 
11. Orange Chicken
---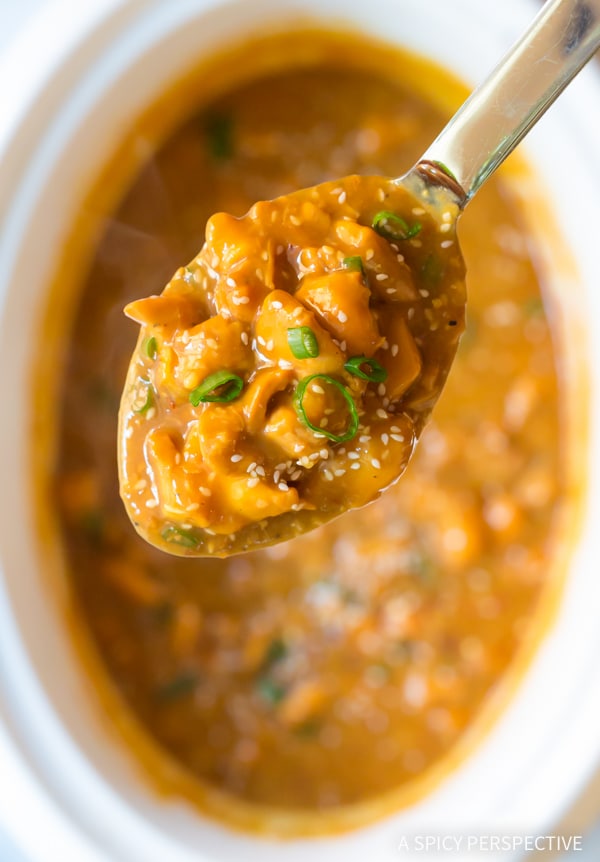 This true and tasty chicken is made with a combination of orange and chicken. You're truly missing out on life if you have not tried orange chicken till now. Honestly, it is one of the best keto slow cooker recipes I've tried!
You'll understand what I'm talking about once you've tasted this dish. It's one of the go-to dishes to impress your family members.
Protein: 29g
Fats: 31g
Net carbs: 12g
Calories: 450
Get the recipe here: A Spicy Perspective
12. Beef Short Ribs with Creamy Mushroom Sauce
---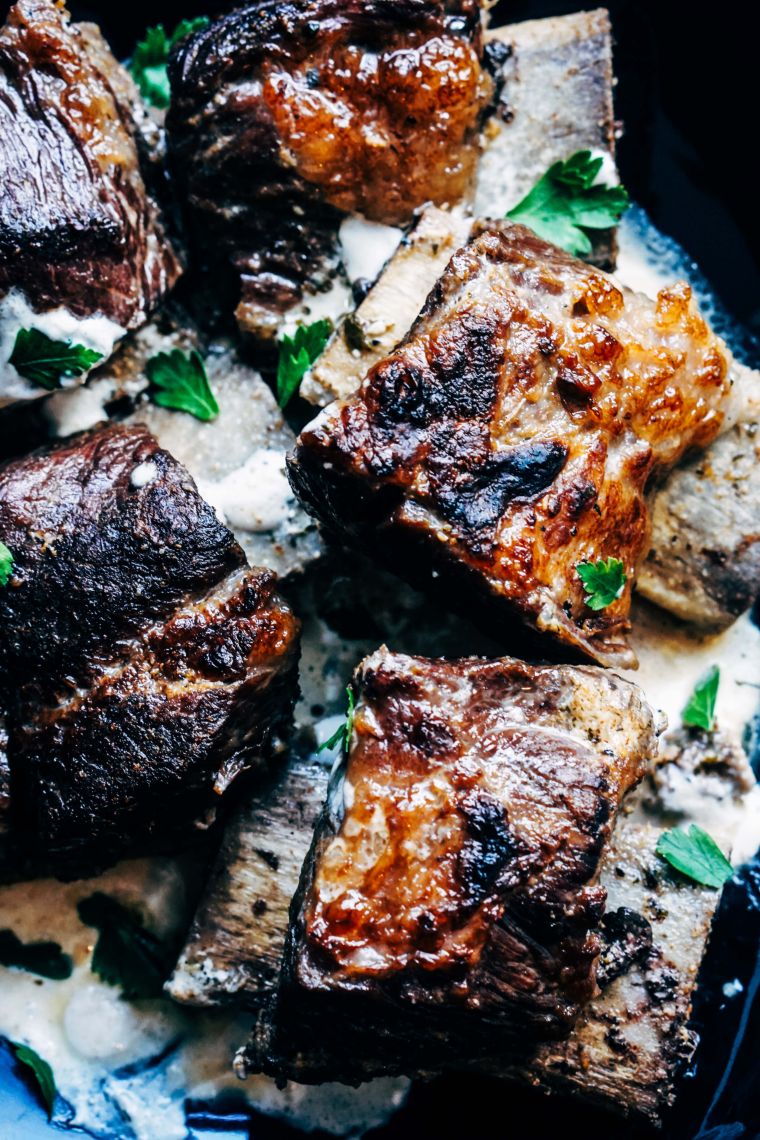 Protein: 13g
Fats: 33g
Net carbs: 1g
Calories: 365
Get the recipe here: Ketogasm
# Wrapping Up
So these 12 keto slow cooker recipes are the best among all crockpot recipes out there. You'd really enjoy them because crockpots make cooking so easier.
If you do not have a crockpot, make sure you grab this one here on Amazon. It's really the most efficient slow cooker available out there!
If you liked the recipes above, please tell us in the comment section. Also, share this article with your friends & family so they can also enjoy these great keto slow cooker recipes.
Pin the article using Pinterest graphics below: 
Ciao